Due to flexible framework Genua marquees are extremely wind resistant and easy to install.
Genua marquee is the most popular sold tent for caravans of UNICO series. Genua marquee is provided with two depths, namely 280 and 320 cm. The difference between them is that Genua marquee 320 has closable ventilation air holes on the both sides. Compared to traditional brands Genua marquee represents a marquee with a flexible framework that allows quicker and easier installation than in the case with classic ones.
Because of the fact that Genua marquee is installed with the help of two flexible frameworks and roof timbers, it is not always easy to understand for a user, where each framework should be installed. Flexible framework of awning canopies with Genua differs by the fact that it doesn't have hinged parts. The flexible framework, which enters into the tent, has hinged parts; they are necessary for connection of the tent with the caravan and the tent with the awning canopy. The final step, when installing, is the roof timbers laying.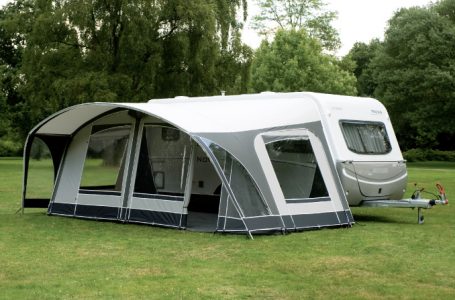 Genua marquee, clear advantages
When installing a classic tent, you deal with a huge box of separate parts, which is a real puzzle for an average user, who installs a marquee several times a year. If you are looking for a wind resistant, quite light marquee with easy installation, we will recommend you Genua marquee.
Besides, it is important to note that Genua marquees don't have curtains on the inner side of the tent, there are canopies with "zip" fasteners instead, so that the canopies are adjacent to the windows. What is more – Genua marquees unlike other brands are equipped with detachable mudguards. This specific detail make UNICO marquees so popular; namely, the time, when you needed to remove dirty underscreens, put the walls on the boards and clean, and then dry them, has gone for Genua marquees, you just need to take the underscreens from under the marquee, when the tent is dry in the morning, and it is possible directly to the cover.
An additional awning is offered for Genua marquee. The depth of these awnings amounts to approximately 220 cm, and living space is significantly increased.