Torino is used for direct mounting on the caravan.
UNICO Torino Canopy is made of Ten Cate All Season cloth. The long-lived cloth of the dutch manufacturer is characterized by durability and quality. UNICO Torino porch tent frame consists of a flexible aluminum framework with a diameter of 30 mm and a wall thickness of 1.4 mm. Flexible framework height is adjusted from the both sides. The standard delivery includes a rafter with Quick-Lock support.
Awnings attract by an easy installation.
Unico Torino awning differs from its analogues by an easy installation. There is nothing simplier: the roof cloth is stretched through a caravan rail. Then the flexible framework is mounted and the tightening belt is tied to it. Then the caravan is pressed to the framework and fastened to the tunnel slot. After that, the flexible framework is pulled and fixed with the long cord. After this operation install Quick-Lock support in the center of Torino awning to the second vein, tucked in the canopy of the caravan. After Quick-Lock support installation, hook the supplied rafter and fix it with the fast connection around the flexible framework. Tighten it with "Power-grip" clip, so that the roof was tightened nice. After the roofing cloth has been tightened, it should be pulled with the help of a cord. On the front side a small cord must be fixed at the corners of the awning. Roll up the cord once around the flexible framework and stretch the tent in the center of the post. Torino awning goes out of the cleat by the rear part of the caravan. A small cord should be fixed in both positions for stretching of the awning.
Thus, if you are looking for a quality awning, which is easy to install, UNICO Torino awning will suit you best. It is made of Ten Cate All Season cloth, is located on an aluminum frame, and due to this its lightness is guaranteed.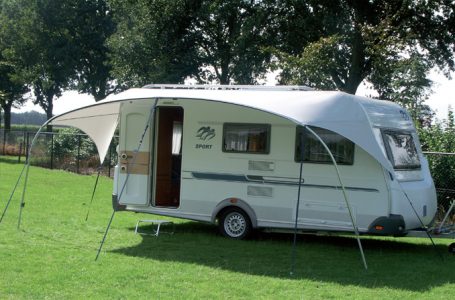 Torino awning stability.
As concerns Torino awning, it is one of the most wind resistant awnings on the market. Its stability is ensured by the fact that his flexible framework is introduced into the tunnel. In the standard awning the wind blows under and raises it. And because of it appears a risk that the tent frameworks, equipped with fins, will rest against the caravan. Since the flexible framework is inserted into the tunnel, the roof cloth does not slip from the framework.
We wish you a pleasant relaxing with UNICO Torino awning.