Unico detachable mudguards on marquees and awnings.
Marquees or awnings with mudguards or without them.
All the marquees have mudguards, it's a necessary part of the marquee or awning, because otherwise there will be a draught. Mudguards can really disturb you, if you want to take off the awning, they are dirty and can be found in a mud. It's necessary to unfasten the lateral and front side and clean them, but they must be layed out on the chairs or drying boards before.
UNICO marquee and awning mudguards are detachable. The marquee has a strip of the velcro fastener at the bottom, and it is very easy and fast to fasten the mudguards. If there is a need of additional ventilation, some part of them can be removed.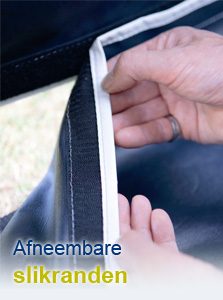 Only UNICO marquees and awning have detachable mudguards.
All the collection of the marquees and awnings has detachable mudguards. The assortment includes two types of marquees. Genua marquee is supplied with two depths. A standard depth of Bologna porch tent is 280 cm. Besides, awning Verona can be made wider with the help of the detachable front curtain or a kit of portal walls. Due to the detachable front curtain the awning can be turned into the marquee in the blink of an eye. The portal walls make it possible to turn the awning Verona into the half of the marquee or half of the awning. The dense part is always located on the same side as the drawbar of the caravan. The porch tent of 350 or 500 types have detachable mudguards.
Unico marquee and awning mudguards are detachable.
The idea of the detachable mudguards appeared  in company "Bax Totaalrecreatie". "Bax Totaalrecreatie" produces not only marquees and awnings of the brend Unico, but also brends Baco ? Falco. And especially for these brends detachable mudguards are produced, they are only for awning.  These awnings for camping have always edges, that make mudguards an odd element.